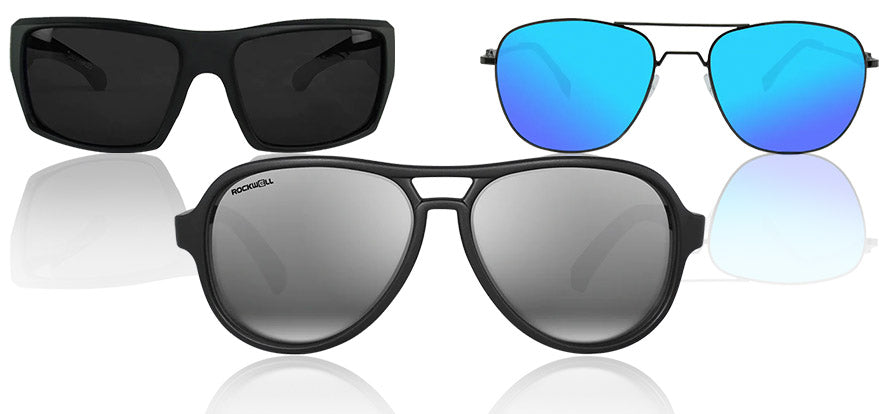 All of the designing happens in our US headquarters. Then, we send our designs to the sunglass craftsmanship mecca in Northern Italy, where four centuries of eyewear artistry come to bear. From the Wasatch Mountain Range to the Alps, we combine our engineering with Italian workmanship. The result is the only pair of sunglasses you'll ever need.
TR90 Swiss Nylon
Our Swiss nylon TR-90 frames are not only lightweight, they offer astonishing resistance to trauma. Bend 'em, drop 'em, squish 'em, freeze 'em, and they'll bounce right back. They're rivaled only by our lenses, which offer powerful resistance to scratches and dings.
Safety Rated
Metal Alloy Frames
Comfort and Fit
Sunglasses get lost when you're constantly taking them on and off, but who wants to keep wearing a pair of glasses that don't fit well? We've all had sunglasses that pinch or rub against our nose, slide around on our face, and irritate the area behind our ears. We've designed our sunglasses to avoid all of these problems. Our sunglasses have soft silicone pads so they don't slide or rub; a soft-comfort, lightweight frame; and feather-light lenses. They'll gently, effortlessly contour to your unique face and head shape while gripping firmly enough to stay secure through high adventures. Bring on the wind, bring on the waves! We know our sunglasses are ready for the market when our testers wear them all day long and forget they're even there.
Protection
Ultraviolet rays are the enemy of eye health, especially when you spend a lot of time in the great outdoors. These rays can damage the ocular surface (outer surface) of the eye and lead to cataracts, macular degeneration, and even eye cancer. Sunglasses should keep the enemy away, but you'd be surprised at what limited protection some shades provide. For shades to qualify as "UV sunglasses," they only technically need to block out 75% of UV rays. Our shades are UV 400 rated, meaning they provide 100% protection against harmful ultraviolet rays, blocking wavelengths up to 400 nanometers. We'll take care of protecting your eyes so you can focus on living life unrivaled.
Style
Sure, our sunglasses are workhorses, but we don't stop there. You deserve to look good while you're out there living fearlessly. Our fashion-forward frames come in different colors as well as shapes and sizes to flatter every face shape. Our tinted lenses make a bold statement from the beach to the boulevard.
Crisper Views
If you're used to sunglasses that offer a convoluted view of life, you're going to love how the world looks through our eyewear. Down with the glare! Our glasses filter out the glare from shiny surfaces like water, snow, and ice. And with the help of Carl Zeiss technology, including the PureCoatTM Ultra Clear Finish, you can enjoy ultra-crisp, ultra-clear views. No need to take your glasses on and off when you switch between different gradients of light. You can see through our sunglasses just as well in full sun as you can on a cloudy day.